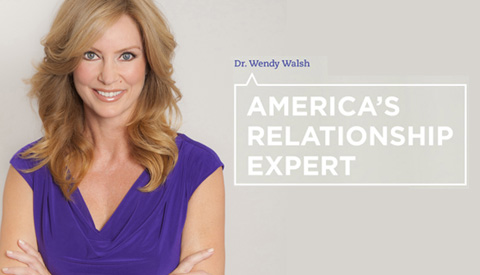 Emmy Award nominated Dr. Wendy Walsh is North America's most prominent and sought after relationship expert. She is the former co-host on the TV show The Doctors and is featured weekly as a part of the Behaviour Bureau on Dr. Drew's show on HLN. She appears regularly on CNN, and shows such as The View, The Steve Harvey Show, The Today Show, The Katie Couric Show, The O'Reilly Factor, Inside Edition and more. Beyond her incredibly impressive media resume, Dr. Wendy holds a Ph.D. in clinical psychology and maintained her own private practice for a number of years. She is the author of three awesome books, the most recent being The 30-Day Love Detox, and has numerous other publications under her belt.
Not that she needs more of an introduction—because her awesomeness speaks for itself— but you can watch the video below to get a taste of her feisty personality!
Imagine my surprise first thing Monday morning when I received an email from Dr. Wendy's director of business development wanting to set up a call between the three of us! It's safe to say that I didn't get much sleep that night. We went back and forth with some discussions and brainstorming which resulted in Dr. Wendy hiring me as her writer/editor! We are working on some very exciting projects together and this is just the beginning!
I have to say, the thing that is most exciting in all of this is that we share the same vision and passion for relationships! Dr. Wendy is pioneering the Slow Love Movement, where people can learn to see through the "high supply junk food" sex culture and actually find real meaningful love and connection. She writes about several other topics including but not limited to motherhood, parenting, attachment styles and sexuality. We simply couldn't be a more perfect match!
With all that is going on, I will continue writing for my personal blog! I am excited to be challenged, learn and grow, and as a result have more to share with each of you! The future is looking foreign and uncertain, but extremely promising and adventurous. I hope you will all embark on this exciting journey with me!
I owe a big thank you to all the awesome followers and readers! You guys have made this opportunity happen! As well as my family, friends and colleagues that have been amazingly supportive! Subscribe to the blog to stay in the loop and I look forward to taking you on this journey with me!
Wishing you love and connection,


P.s. Take a survey to share what products you would like to see Dr. Wendy and I develop!
P.P.s. You can watch Dr. Wendy on her YouTube channel! She is educational, fun and entertaining!