Hey friends,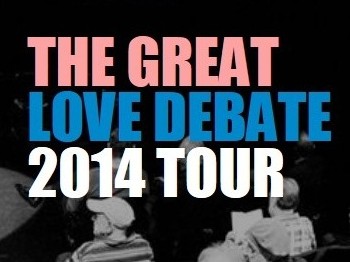 I just wanted to let you know about an exciting event called The Great Love Debate coming to Toronto on August 1st. I am very excited to be a part of the expert panel that will engage in an interactive town hall discussion to debate dating topics and ultimately try to answer the question, "why is everyone still single?"
Oh and did I mention that there will be cocktails and a mix and mingle after party following the show? What more could you ask for in a singles event?
Use the special promo code ERICA to get $10 off your ticket 😉 Or if you are happily committed pass the discount and details about the event on to one of your single and ready to mingle friends!
The official details are included below and I would hope to see you there!
The Great Love Debate Toronto August 1st
Hello Products in partnership with Match.com, is proud to announce THE GREAT LOVE DEBATE tour will be coming to the Theatre Passe Muraille in Toronto on Friday, August 1st 2014.
This lively, interactive Town hall-style discussion and debate on the current state of the date will be comprised of an audience of 100 of Toronto's most eligible bachelors facing off against 100 of its most dynamic single women to answer the question, "Why is everyone still single?"
The Aug 1st show continues the summer leg of a 45-city North American tour, and features a panel of the GTA's most prominent relationship specialists and influential voices including; Erica Djossa, Coach, Counselor, and Founder of The Love Compass; Jasbine Ahluwali, Matchmaker, Dating Coach & Founder, Intersections Match; Cheryl Besner, Dating Coach, Relationship Expert & Media Personality; Jeremy Bluvol, Co-Founder of Instant Chemistry; Emeka Bronson, Dating & Relationship Expert, Executive at Cougar Life; Carmelia Ray, Author, Matchmaker, and Online Dating Expert and Gary Wilson, Editor-in-Chief of Eligible Magazine.
The Show is moderated by BRIAN HOWIE, Award-winning Producer & Author of How to Find Love in 60 Seconds
Tickets for this event are $40 and are available online at http://loveToronto.eventbrite.com. You can use my special promo code ERICA to receive $10 off. The event is expected to sell out and no tickets will be available at the door.
Doors open at 6:30pm for cocktails, Showtime is 7:30pm
Seating is extremely limited (100 per gender), all attendees receive admission to the "Meet, Greet, Mix, Mingle & Match" party that immediately follows the show.
For further information and media inquiries, please contact Brian Howie from 4th Street Media via email at brian@4thstreetmedia.com.
For future tour dates and panelist information, please visit http://www.greatlovedebate.com.